Scholar Carol Smith Rosenberg '57 discusses liberalism and race in America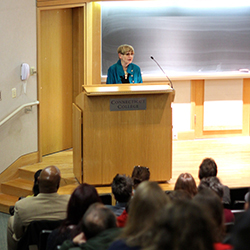 Abolish slavery but deny citizenship?
According to Carroll Smith-Rosenberg '57, one 19th century author proposed this radical idea.
That author, Thomas Branagan, served as the focus of the 2015 Henry Wells Lawrence Memorial Lecture, sponsored by the College's History Department. Smith-Rosenberg, a pioneering voice in U.S. women's and gender history, and professor emerita at the University of Michigan, presented this year's address.
Smith-Rosenberg's lecture, "Liberal Conundrums: Thomas Branagan and the Whitening of American Democracy," touched upon the roots of liberalism and its history of racial practices, framing her thoughts around Branagan and his writing.
Branagan, she explained, lived a unique life. Born in Ireland in the late 1700s, he left home as a teen to become a sailor, initially working on slave ships. This led him to a plantation in Antigua, where he worked as a foreman. He later grew to decry slavery as a "violation of the rights of man" and moved to Philadelphia in the early 1800s, where he began to put his opposition to slavery into writing.
This is where contradiction arose, Smith-Rosenberg said. Branagan believed that all men were created equal, but also felt America was only for Whites and that African-Americans should not be granted citizenship. While many supporters of the abolition of slavery thought the slaves should be sent back to Africa, Branagan proposed giving the free slaves land within the Louisiana Purchase to begin their own self-governed, agrarian state.
"Liberal exclusionary practices are buried within liberalism itself," Smith-Rosenberg said. "Liberalism's issue is that while stating all men are created equal, it lacks specificity — class, race and gender all create friction within the promises of the Constitution."
And some of the same thoughts — African-Americans exist outside of civilized society — are still prevalent in today's society, she noted.
"Single mothers, poverty, drugs — some question how someone can be raised to the level of an equal citizen," Smith-Rosenberg added, critiquing this line of thought as a problem with liberalism.
Considered one of the foremost voices in women's history, Smith-Rosenberg authored the 1975 essay, "The Female World of Love and Ritual," which is regarded as one of the most important writings in lesbian history. Her collection of essays, "Disorderly Conduct," served as a landmark in women's studies. In 2010, she published "This Violent Empire: The Birth of an American National Identity," which focused on the origins of violence, racism and paranoia, and how they have contributed to our national sense of self.
Jen Manion, professor of history and director of the College's LGBTQ Resource Center, helped organize the event. She said Smith-Rosenberg inspired her as a young lesbian feminist, when Manion was a student and Smith-Rosenberg was a faculty member at the University of Pennsylvania in the early 1990s.
"Carroll's scholarship modeled the importance of history to contemporary social justice movements," Manion said. "She put the history of sexuality on the map, and gave so many of us a vision for how to conduct the scholarly research and writing that could address important questions about the place of oppressed minorities in American democracy."
Since 1960, the History Department has brought distinguished scholars to campus to deliver the Henry Wells Lawrence Memorial Lecture, established in honor of the professor who chaired the department from 1920 to 1942. Smith-Rosenberg previously participated in the event in 1984 with a lecture titled, "The Body Politic: Sexual Symbolism in American Politics, 1860-1930."
---
April 17, 2015