Science Leaders to expand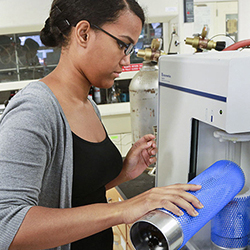 With a $300,000 grant from the Sherman Fairchild Foundation, Connecticut College is launching Science Leaders II, a program designed to create a pathway for talented underrepresented students from community colleges to complete bachelor's degrees in biochemistry, an area of particular strength for the College.
Modeled on the College's distinctive Science Leaders program, which since 2007 has significantly increased the number of students from underrepresented groups graduating from Connecticut College with degrees in the sciences, Science Leaders II will recruit cohorts of students from select two-year colleges and community colleges with which the College has a partnership.
"This program is designed for students who would like to complete a rigorous program in biochemistry, which can be difficult when starting at a two–year college," said Marc Zimmer, the Tempel Professor of Chemistry and interim dean of the college. "Science Leaders II creates a path for students who never might have considered completing a bachelor's degree at a liberal arts college."
The College launched the original Science Leaders program with a grant from the National Science Foundation. Of the 43 student participants, 91 percent have graduated within four years, and more than a third have gone on to pursue advanced degrees in science, medicine or other health-related fields.
"We are delighted to develop new collaborative relationships with community college partners through this program," said President Katherine Bergeron. "Science Leaders II is advancing Connecticut College's efforts to expand the excellence and diversity of our student body in ways that will benefit our campus and the future of science leadership in the United States."
The first cohort of 10-14 Science Leaders II students will be recruited to begin classes in the fall of 2016. To be eligible for the program, students must complete certain core courses at their two-year colleges, including introduction to chemistry, organic chemistry, math and physics. Science Leaders II participants will enter the College as juniors and graduate with bachelor degrees in two years.
"Biochemistry is central to many of the sciences, so these students will have a wide variety of career options in health care and scientific research," said Assistant Professor of Chemistry Tanya Schneider. "Our program will benefit from a diversity of life experiences and backgrounds in our student body."
At Connecticut College, participants will receive financial aid and mentoring, support, career preparation advising and assistance applying to graduate or medical school from a team of faculty, career and peer advisers. The students will also take several classes and labs together, which will allow them to form tight-knit groups that will serve as important sources of support as they navigate the rigorous science curriculum at the College.
"The mentoring we will provide these students throughout their time at Connecticut College, along with the close relationships they will develop with their peers in the program, will help them make a smooth and successful transition," said Zimmer.
Previous Science Leaders agree that the support of fellow students is a key component of the program.
"Science Leaders is a great way to meet like-minded people in the beginning of college when everything seems so overwhelming," Courtney Dwyer '12, who is now a biology teacher at PIO XII Bilingual School in Mosquera, Colombia, told the College's alumni magazine.
Added fellow Science Leaders graduate Erick Argueta '12, who is pursuing a medical degree from Stony Brook University School of Medicine, "As a Science Leader, I had the opportunity to form a network with students from different backgrounds who all share many of the same career goals and aspirations that I do."
---
February 4, 2015