Sloane Crosley '00 delivers keynote at Shain Library re-dedication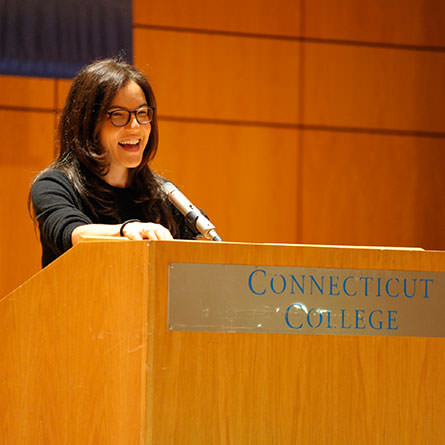 When Sloane Crosley '00 first laid eyes on the Connecticut College campus, she saw a place very different from the cookie-cutter communities of upstate New York where she grew up. It was an idyllic, New England college with green grass and trees, and beautiful stone buildings she quickly fell in love with.
But one place stood out from the others — and not for a good reason.
"It looked like a strange spaceship," Crosley said of Charles E. Shain Library, the hulking Brutalist structure in the center of the College campus.
But the library became a place where Crosley would develop her passion for writing, a passion that has transformed into a career as an acclaimed author and essayist. Crosley's humorous debut novel, "The Clasp," released Oct. 6, is currently drawing near-unanimous praise from media outlets such as The New York Times and Vogue.
Crosley was on campus Saturday as part of the College's annual Fall Weekend celebration, delivering the keynote address during a re-dedication ceremony of the newly renovated Shain Library.
A former book publicist, Crosley first rose to prominence with her essay collections "I Was Told There'd Be Cake" and "How Did You Get This Number," both of which became New York Times bestsellers. In addition to her writing, she has worked in book publishing, has been a guest lecturer at New York University and Columbia University, and is currently developing an original television series for HBO.
"The Clasp," Crosley said, draws inspiration from her time at Connecticut College. It tells the story of a group of friends who, after a decade apart, are reunited at a wedding. They soon slip back into their old roles, setting out on an adventure to recover a valuable necklace. The characters experience flashbacks to their time at college, which Crosley said mirrors the College campus.
"I loved Conn, but it wasn't always perfect," Crosley said of the setting. "But I eventually realized the quirkiness and the imperfections are what made me love it so much."
Crosley studied anthropology and archaeology at the College, but discovered her love for writing when she took a course with Blanche Boyd, Weller Professor of English and Writer-in-Residence. Her talent didn't manifest itself immediately, she admitted, as she recalled handing in her first writing assignment — a bloody and violent story.
"She asked me to stay after class," Crosley said. "She handed back the paper and told me, 'There's something out there for you… but this isn't it.'"
But Crosley remained steadfast, consuming works of fiction from authors such as Virginia Woolf and Amy Bloom while honing her writing skills. She said her senior thesis is still housed in Shain Library, though probably not worth reading.
"I would not recommend going to find it. It's not good."
Crosley's address kicked off a re-dedication of Shain Library, which recently underwent a $10 million renovation. The project — completed five months ahead of schedule — brought much-needed upgrades in technology, increased collaborative study space, added more natural light and created a permanent home for the Academic Resource Center.
---
October 10, 2015