Sociology professor wins national award for feminist activism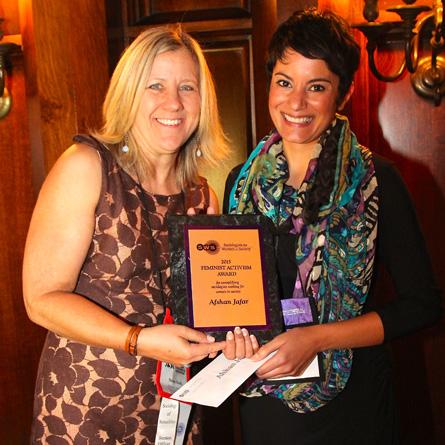 Afshan Jafar, associate professor of sociology, recently received the 2015 Feminist Activism Award from Sociologists for Women in Society (SWS), a nonprofit academic feminist organization.
According to the SWS website, the award is "presented annually to a society member who has notably and consistently used sociology to improve conditions for women in society."
A self-described "sociologist who studies gender and globalization," much of Jafar's activism focuses on the representation of Muslim women in Western media. Her research and scholarship on the topic fold into her course curriculum, but also into her blogging, editorials in "Inside Higher Ed" and "The Guardian," and her acclaimed TED talk. Projects from her students have been featured on the websites of GLAAD and Tumblr, as well. The accessibility of her ideas, which she calls "public sociology," has brought considerable attention to her work.
Jafar, however, said it's "unusual" for an academic to win the award for public scholarship, as it's usually presented to academics who are "in the trenches." But her work, she said, brings together academia and activism, showing that the two are closely related.
"Scholarship is a form of activism," Jafar said. "It means the world to me to have that acknowledged."
Jafar has also brought her activism to the College campus. She has served on the Faculty Steering and Conference Committee, bringing her ideas to the development process of the College's new curriculum, and served on a committee that reviewed the status of women faculty at the College.
"Not only does Afshan get very concrete things done—things that improve the lives of historically marginalized members of our campus—but she inspires others to get on board and do the same. That is the heart and the head of successful activism," said Simon Feldman, associate professor of philosophy, who supported Jafar's nomination for the award.
A native of Pakistan, Jafar joined the College faculty in 2008. In 2014, she received the College's Helen Mulvey Faculty Award, presented to an assistant professor who regularly offers classes that challenge students to work harder than they thought they could to reach higher levels of academic achievement. Her research has also resulted in three books: "Women's NGOs in Pakistan," "Global Beauty, Local Bodies" and "Bodies Without Borders."
---
November 10, 2015