Athletic Center will get $1.6 million in renovations, thanks to Campaign gifts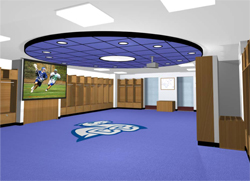 Connecticut College has received $1.6 million in gifts to upgrade its locker room and training room facilities and add lights to its turf field.
"The improvements will benefit many students at this highly selective liberal arts college, where athletics, physical fitness and co-curricular programming are integrated with rigorous academics," said Connecticut College President Leo I. Higdon Jr. "We are grateful to Karen and Rob Hale '88 and our two anonymous donors for their support of this important project."
The Athletic Center improvements, to be completed this summer, are characteristic of the transformation Connecticut College has undergone over the last several years as it has restored historic buildings, renovated student residences and enhanced the natural beauty of its 750-acre Arboretum campus -- thanks to gifts through the Campaign for Connecticut College.

With critical support from alumni and parents, athletic facilities have been an important part of this transformation.
"We are extremely fortunate to have dedicated parents and alumni who understand the vital role athletics and overall fitness play in this education. With their support, we have built a new fitness center, installed the artificial turf at David and Lyn Silfen Track & Field, completely rebuilt our tennis competition site and sailing venue, and made significant renovations to the Charles B. Luce Field House and Dayton Arena," said Francis J. Shields, the Katherine Wenk Christoffers '45 Director of Athletics.
In the Luce Field House, the College will enlarge and renovate the men's lacrosse and soccer locker room to accommodate the growing rosters in these sports, reconfigure and upgrade the training room and reconfigure and upgrade additional locker rooms for field hockey; women's lacrosse and soccer; men's and women's basketball, squash and track and field; coed and women's sailing and women's volleyball. Outside, new lights on the artificial turf field will give more varsity teams, club sports and other groups opportunities to use the all-weather field for night games, practices and events.
Dave Cornell, men's lacrosse head coach and the 2010 NESCAC and New England Intercollegiate Lacrosse Association (NEILA) Coach of the Year, said his players are very excited about the Athletic Center Improvements.
"The entire team is incredibly grateful for this generous support. With the new facilities, all our athletes will have what they need to focus on playing their best in our highly competitive New England Small College Athletic Conference," he said.
---
February 14, 2012