Women's Rights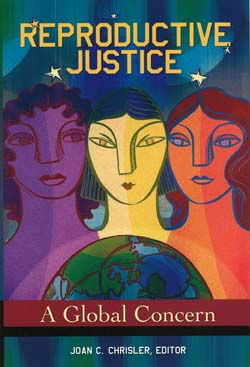 Professor 's new book, "Reproductive Justice: A Global Concern," challenges Western assumptions that women have power over their own bodies and the ability to choose what happens to them.
"The book takes a global view of reproductive justice, which is appropriate to the subject matter, as women's rights and ability to exercise those rights and to access needed health, counseling and educational services varies greatly between – and even within – countries," said Chrisler, the Class of '43 Professor of Psychology at Connecticut College.
As editor of this collection of essays, Chrisler outlined the book, sought experts on the topics to write original chapters and then pulled it all together with her own introduction and afterword. Reproductive justice is an issue she has studied for 30 years.
"I am interested in reproductive rights because I am a woman; I began to study it and work for reproductive justice politically through my involvement in women's studies and the feminist movement, respectively," Chrisler said. "I have worked on it as an activist – with NOW, NARAL, Planned Parenthood and others – and educator since the 1970s."
Chrisler was a featured speaker at a February conference at Connecticut College, "When Justice Has a Body," organized by students. She has also been involved in a reproductive rights rally and speak-out at Trinity College in recent years. Chrisler is consulted frequently by media about reproductive justice and other issues relating to women's health and psychology, such as body image, eating disorders, menstruation and menopause, and gender issues.

Recently, Chrisler was announced as the 2012 winner of the New York State Psychological Association's Margaret Floy Washburn Award. This award is given in honor of significant contribution in one or more areas of feminist concerns. Previous recipients of this award include Ruth Ochroch, Virginia Staudt Sexton, Judith Alpert, Melba Vasquez and Sharon Brennan.
The 13 essays included in Chrisler's book span a broad variety of women's rights topics, including power in relationships, sexual assault and sex trafficking, contraception and abortion, pregnancy and birthing, and more. The essay authors examine the many reasons why women around the world are unable to put their rights into practice. Lack of money and other resources, as well as the impact of cultural and familial pressures, are common roadblocks.
In her afterword, Chrisler is hopeful. She urges female readers to use the knowledge gained from the essays to always be aware of their rights, and she seeks justice in politics and the election of political leaders who will work to end the problems plaguing women as they choose to have or not to have children.
-Bailey Bennett '14
---
August 9, 2012