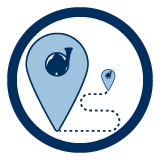 Domestic College-Sponsored
Athletics
Career/Centers internships
Community learning placements
Course-related
Student life activity
Summer research for faculty or students
Traveling Research Immersion Programs (TRIPs)
Conferences
Step One:
Register the OCE on a form that includes a link to a roster.
Step Two:
Provide pre-departure orientation that can be in a syllabus, a class or a separate meeting in-person or virtually. The college coordinator/faculty responsible for the OCE can determine the structure or format of the pre-departure orientation.
Step Three:
Collect signed waiver and medical disclosure forms.