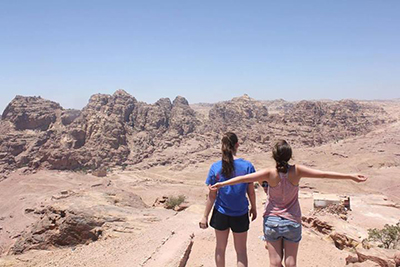 Arabic Studies embraces the College's global focus and supports students who plan to further their education abroad.
Students in Arabic Studies have spent their study abroad semesters in many Arab countries like Egypt, Jordan, Morocco, Lebanon, Tunisia and Qatar through College-approved study abroad programs.
"Being able to see a refugee camp and going to the Syrian border were paramount events for me. And the little everyday things like walking through the streets and witnessing a win for the football team. I can't put into enough words how thankful and appreciative I am of this experience. It is life-changing and eye-opening." - Kaitlyn Garbe '15
‌At left, proud camel, Chris Chen '15 in Wadi Rum, Jordan.