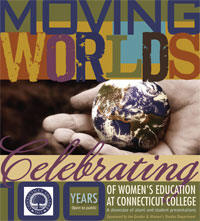 April 23-24, 2010
Sponsored by the Connecticut College Department of Gender and Women's Studies and the Center for the Comparative Study of Race and Ethnicity, highlighting student research presentations.
Keynote Address
Aili Mari Tripp examined why almost all post-conflict countries in Africa have double the rates of female legislative representation compared with countries that have not undergone conflict. Moreover, these countries tend to have been more open to passing legislation and making constitutional changes relating to women's rights. Her talk was based on comparative research across Africa as well as fieldwork in Uganda, Liberia, and Angola. Tripp is a professor in the Department of Political Science and Women's and Gender Studies, and director of the Women's Studies Research Center, at the University of Wisconsin at Madison.
Student Research Presentations
Breanne Timura '12
Majors: Human Development and Sociology
Breanne's interview with Platt Townsend Arnold '64 seeks to understand how women at Connecticut College in the 1960s pushed through the ideological strictures of the time in order to empower themselves in their personal and professional lives. As a new Public Policy and Community Action (PICA) scholar in the Holleran Center, Breanne is studying the socio-emotional development of women affected by domestic violence in hopes of assisting in their fight for social justice.
Mazvitashe Mangisi '12
Majors: Mathematics and Economics
An international student from Zimbabwe, Mangis focused her essay on Terry Taffinder Grosvenor '67's years at Connecticut College. A remarkable firsthand account depicting the main issues surrounding women's lives in the sixties, it elucidates the changes that where taking place in women's social lives, especially on the Connecticut College campus, and on the larger social scale. Mangisi hopes to become an entrepreneur in her home country and do philanthropic work with families impacted by the HIV/AIDS pandemic in the region.
Elizabeth Ramos '12
Majors: Gender & Women's Studies and English
Elizabeth's essay focused on the life and times of Margaret "Peggy" Cosgrove who attended Connecticut College between 1969 and 1973. Elizabeth's interests in women's rights developed at a very young age and through her experiences within what she describes as the "machismo culture." She attended The Young Women's Leadership School in NYC, her opportunity to further explore feminism as personal and collective politics. She believes that her education at Connecticut College, the GWS courses she is taking, her volunteer work in the New London community and a trip to Mexico allow her to fine tune her understanding and practice of feminism in everyday life.
Elizabeth Ramos '12 (above) and Bernadette Palmeri '12
Ramos and Palmeri were enrolled in the course "Training for Transformation" with Professor Laura Burfoot. The objective of the course is to engage in volunteer work throughout the community while strengthening student awareness of social issues. As a class requirement, they volunteered weekly at York Correctional Facility for women in Niantic, Conn., and they shared their experiences in their presentation.
Bernadette Palmeri '12
Major: Sociology-based human relations major with a double minor in GWS and English
Bernadette helped lead the community outreach program at her high school in Northern New Jersey and came to the College seeking a new kind of volunteer experience where she has discovered incredible opportunities to learn about the community and greater global issues. Aside from her volunteer work at York, she is seeking certification for sexual assault and domestic violence prevention at the Women's Center of Southeastern Connecticut.
Hannah Read '10
Major: Gender and Women's Studies, minors in psychology and dance
Hannah's project examined the various discursive contexts (local and national) within which Connecticut College's shift to co-education could be understood more clearly, a project initially crafted for Professor of Sociology Frances Hoffman's class "Gender and Higher Education." Hannah presents one of three sections of an extensive analysis of Connecticut College's history and its transition to coeducational institution, a collaborative project between Hannah Read, BZ Reed '09 and Becca Heupel '12.
Thomas McDonald '10
Architectural Studies Major
Chartered in 1911 as the state's only institution for the higher education of women, Connecticut College opened on the eve of a decisive era in women's history. Thomas's paper considers the adaptation of the University of Virginia plan to the situation of Connecticut College, emphasizing the similarities within the social and academic aspirations at both institutions. Whereas the UV plan tacitly assumed that women's colleges were simply trying to mimic men's schools, Thomas proposes that the particular design qualities of the University of Virginia were well suited to a nascent women's college attempting to bridge the gap between Edwardian domesticity and the autonomous "New Woman" of the 1920s.
Amna Qayyum '10
Majors: Economics and History
Amna is an international student from Pakistan. Her paper expands theunderstanding of the mechanisms that generate the growing gender gap in educational attainment witnessed in post-Soviet Tajikistan. A drop in educational attainment characterizes the post-Soviet period in Tajikistan across all levels, but especially in secondary and higher education. Within only six years of the Soviet collapse, enrollment rates in secondary schools were estimated to be 15-20% lower than 1970 levels (World Bank: 2000). This drop is especially worrying in terms of the increasing gender gap in educational attainment between boys and girls. To date there has been no comprehensive economic analysis of the reasons for this decline in school enrollment for girls.
Her senior honors thesis investigates cross-border diplomatic, military, religious, trade and artistic ties between Uzbek Central Asia and Mughal India (1605-1627 CE). Amna intends to better her Russian language skills, pursue a graduate degree in history, and eventually find a career path in academia.
Sarah Tabet '10
Majors: Film Studies and Gender & Women's Studies and a minor in Philosophy
For her documentary, Sarah interviewed both current faculty members and emeritus professors about the history of GWS. She explores the question how GWS, an institutionalized "feminist" space, has impacted the "feminist" movement locally and nationally.
Sarah created her first documentary short, "Bob," in 2005, using digital video and Super 8 footage to retell the story of a Jewish man who immigrated to New York City after escaping from Amsterdam during World War II. Two of her "shorts," "Donkey Pala" and "Speargun," were given honorable mention at the student film festival at Guild Hall in East Hampton, New York. Her longest documentary, Naar Jezelf, filmed in the Netherlands when she was attending S.I.T.: International Perspectives on Gender and Sexuality, was screened to a public audience at the Centrale Bibliotheek, the largest library in Europe. Sarah has worked with S.I.S.T.E.R, a Connecticut College OVCS mentorship program for adolescent girls, teaching them documentary interview and camera techniques. The documentary, "Women & Girls Who Inspire," was screened at the 10th Anniversary of the Women & Girls Film Fest at New London's Garde Arts in 2009.
Colleen MacPhee '10
Majors: Sociology and Gender and Women Studies
For her independent study for the Holleran Center for Community Action and Public Policy as a PICA scholar , Colleen created and implemented a method of intervention for survivors of violence living in transitional housing in New London, CT. Her academic interests include: unpacking the complexity of gender based violence, examining the voice and representations of survivors of violence, community activism and urban policy. Colleen has volunteered at the New London Homeless Hospitality Center, Noank Baptist Group Home and the Women's Center of Southeastern Connecticut.
Amanda Almond
M.A. candidate, Psychology
Amanda's proposed research project is to contribute to the existing body of knowledge on black women's health issues to develop effective intervention strategies that promote better health in communities of women of color. Using the Photovoice technique, Amanda encouraged women of color to use photography to describe their motivations and barriers to exercise. She argues that visual methods of research can capture the distinction of physical activity and how it fits into daily lives, behaviors, and social roles, particularly those of minority women.
Amanda's academic interests include gender studies, cultural psychology, and addiction and recovery treatments. After earning her M.A. from Connecticut College, Amanda plans on pursuing a Ph.D. in community psychology or related field. Ultimately, she hopes to practice health psychology and become a professor at a local college or university. A New London resident, Amanda is a recovery assistant at Reliance House in Norwich, where she is also a member of the Safety Committee and an intake correspondent.
Angelica Sgouros '10
Majors: English and Gender and Women's Studies
Angelica focused on the "Global Movement to End Vaginal Fistula," its successes and its failures. She is one of the founding members of the Connecticut College Women's Center, and received the Feminist Collective Action award from the GWS department in 2007 for forming the an anti-rape group on campus, Sexual Assault Free Environment (SAFE). She interned with Planned Parenthood of Connecticut, an experience that cemented her understanding of women's bodies as a site of social and political contestation. She received a Susan J. Rose Research and Leadership Award to attend Feminist Winter Term in New York City, hosted by Soapbox Inc., and was chosen to be the Connecticut College student-delegate to the national "Take Back The Night" conference.
Andrea Lewis '13
Majors: Gender and Women Studies and Sociology
With a carefully arranged poster-board of advertisements, Andrea, a POSSE scholar, focused audience attention on the nature of "mixed messages" that current day advertising sends to women in particular. She argues that these mixed messages are responsible for how women perceive themselves in contradictory ways.
Katie Grossweiner '12
Major: Chinese Language and Literature
Katie's interest is in women's issues in modern day China. Marriage was historically an unwelcome and yet unavoidable reality for Chinese women who had little to no autonomy in marriage decisions, and the patrilineal, patriarchal, and patrilocal nature of traditional marriage led many women to lose their identities in the move from the natal family to the marital family. As the Chinese Communist Party started to establish itself, it began to push for marriage reform that met with resistance in rural areas. With this historical context in mind, Katie's paper examines how Chen Kaige, director of the film "Yellow Earth," uses the main character's sorrowful folk songs and lengthy shots of the barren Shaanxi landscape to express post-Mao concerns about the relationship between historical precedent and marriage. The paper further explores the implications of this relationship in modern day China, where marriage, though a reformed institution, has been showing some troubling trends in the recent past.
When she is not studying long lists of Chinese characters, she is applying for funded programs to return to China and hopes to become a K-12 Chinese teacher.
Erin Thomas '10 and Tory Oliva '10
Majors: Human Development
In this project, Thomas and Oliva argue that sexual abuse is not what causes a low sense of self-worth in the female victim of the crime. It is the consequences of the sexual abuse, such as depression and participating in risky behaviors, that lead to a low sense of self-worth and can ultimately affect how a sexually abused woman parents her own children. The goal of this paper and presentation is to give "hope" to the female victims of sexual abuse. Although strangers at the beginning of their independent study, Erin and Tory became close friends through constant research, revisions, and some small disagreements along the way. Before this project, both Erin and Tory were unaware of how many women are affected by sexual abuse but the research for this paper has opened their minds to the stark reality of sexual abuse in the social world.
Erin has focused on the globalization and early childhood development aspects of the human development major, and intends to pursue a career in education and educational curriculum and policy development. Tory's focus has been on studying individual differences in development as well as exploring cultural differences through globalization. She hopes to pursue a career in commercial real estate with a focus in community planning.