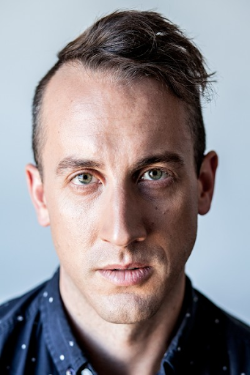 Andrew Schneider is an OBIE award-winning, Drama Desk-nominated performer, writer, and interactive-electronics artist creating original works for theater, video, and installation since 2003. Based in Brooklyn, New York, Schneider creates and performs original performance works, builds interactive electronic artworks and installations, and was a Wooster Group company member (video/performer) from 2007-2014. Rooted at the intersection of performance and technology, Schneider's work critically investigates our over-dependence on being perpetually connected in an always-on world.
Andrew's original performance work in NYC includes AFTER (2018 – Under the Radar Festival, The Public Theater) YOUARENOWHERE (2015 OBIE award – The Invisible Dog, 2016 Drama Desk nom – 3LD); DANCE/FIELD (2014 – Dance Roulette), TIDAL (2013 – River to River festival); WOW+FLUTTER (2010 – The Chocolate Factory Theater). Currently, Andrew is working on commissions (NERVOUS/SYSTEM, BAM, Bard, MIT 2018) and Ars Nova (TBD, 2019).
Andrew creates wearable, interactive electronic artworks such as the Solar Bikini, (a bikini that charges your iPod), and wireless programmable sound effect gloves. His interactive work has been featured in such publications as Art Forum and Wired, among others and at the Center Pompidou in Paris.
Andrew is a recurring collaborator with The TEAM, Heather Christian, Lars Jan / Early Morning Opera, Hotel Savant, Fischerspooner, Kelela, and AVAN LAVA. His off-broadway designs include Dolphins and Sharks at the Labyrinth Theater; Small Mouth Sounds at Ars Nova and the Signature Theatre; and Roosevelvis at the Vineyard Theatre. Schneider has served as an Adjunct Professor at NYU and has taught courses on Technology and Performance at the Interactive Telecommunications Program, and at Bowdoin, and Carleton Colleges. Andrew holds a BFA in Theater Arts from Illinois Wesleyan University and a Masters Degree in Interactive Telecommunications from NYU.