The partnership between the Chu-Griffis Art Collection and the Charles E. Shain Library attained new prominence with the announcement in early 2001 that John and Heidi Niblack would honor Professor Emeritus Charles Chu with a major gift to support the construction of the Charles Chu Asian Art Reading Room on the library's main floor. This was soon followed by a substantial gift from Agnes Gund '60 and her husband, Daniel Shapiro.
The spacious, handsomely appointed room, completed in the 2001-02 academic year and immediately visible to all who enter the building, serves as both a quiet reading area and as a permanent exhibition space for Asian art. The reading room typically hosts three to four traveling exhibits of contemporary Chinese artists and two to three exhibits from the Chu-Griffis Collection. The room also provides shelving for a selection of books and periodicals on Asian art that complements the library's main holdings in the stacks and the Lear Center for Special Collections and Archives.
The Charles Chu Asian Art Reading Room reflects the long-standing interest of Dr. and Mrs. Niblack in Asian art together with their admiration for Charles Chu, himself an accomplished painter and revered teacher who came to the United States from China in 1945 and began the Chinese language program at Connecticut College in 1965 during the presidency of Charles E. Shain.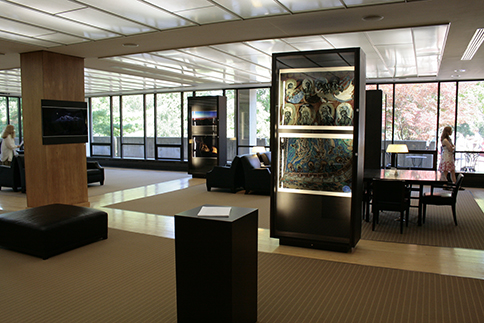 The room was designed by the Boston firm of Schwartz/Silver Architects from criteria prepared by a committee composed of Dr. Niblack, Professor Chu, vice president for information services and college librarian W. Lee Hisle, special collections librarian Laurie Deredita, Dayton Associate Professor of Art History Abigail Van Slyck, May Buckley Sadowski '19 Professor of Psychology Ann Devlin, manager of planning, design and construction Steven George, and Bachman Clem '01. It was the architects' intent to design a serene and beautiful environment, to maintain the original openness of the space while creating a new coherence and unity, to establish a distinctive character for the room while preserving its relationship to the rest of the library, and to highlight the exhibited art while retaining the wide-angle view of the surrounding trees and grounds provided by the building's architects in 1976. Given the visibility of the room, both inside and outside the library, its design is also intended to intrigue and attract passersby. By emphasizing simplicity, tranquility and elegance, the Schwartz/Silver concept reflects the traditional Asian design principles so creatively embraced by Charles Chu in his own painting and in his curatorship of the Chu-Griffis Art Collection.
---Brian Rogers, Retired Special Collections Librarian