The Nancy Moss Fine Native Azalea Garden is located in the Connecticut College Arboretum Native Plant Collection in New London, Connecticut. This garden was established in 1978 with funding from the family as a memorial to Nancy Moss Fine (1929-1965). Nancy was a psychology major and graduated from Connecticut College with the Class of 1951.
The Fine Native Azalea Garden includes seventy-nine deciduous Rhododendron shrubs. Fifteen are species and three are selections of natural hybrids. There are a total of eighteen taxa represented. For the Connecticut College Arboretum, native is defined as plants indigenous to eastern North America, east of the Mississippi River. Many of our azaleas are not native to the state of Connecticut, but are hardy in our near-coastal location. This garden includes Rhododendron austrinum, the least hardy species that dies back to the ground during harsh winters; Rhododendron atlanticum, a low growing plant with a suckering growth habit; and Rhododendron prunifolium, the most vigorous of our native azaleas with late season flowers during July and August. Broad-leaved native rhododendrons are also represented in the Fine Garden.
Bloom times are for our location in southeastern Connecticut.
Alabama Azalea
Rhododendron alabamense Rehd.
Fragrant lemon-scented white flowers with a prominent yellow blotch on the upper corolla in mid to late May. Native range: Alabama, Florida, Georgia, Mississippi and Tennessee.
Sweet Azalea
Rhododendron arborescens (Pursh.) Torr.
White flowers with contrasting dark pink to red style and stamens and a fragrance like heliotrope, the sweet azalea blooms from mid to late June. Native range: along the east coast, as far north as New York, as far south as Georgia, and as far west as Mississippi and Tennessee.
Coast Azalea
Rhododendron atlanticum (Ashe) Rehd.
Blooming in mid May with white or sometimes pinkish-white flowers and pink stamens, the coast azalea is easily recognizable by its distinct blue-green foliage. Native range: the coastal plains from Pennsylvania to Georgia.
Florida Azalea
Rhododendron austrinum (Small) Rehd.
Flowers varying from yellow to orange with a red or orange-red tube with bloom time in mid May. Native range: Alabama, Florida, Georgia, and Mississippi.
Flame Azalea
Rhododendron calendulaceum (Michx.) Torr.
One of the most showy of the native American azaleas, the flame azalea displays flowers averaging 2" diameter and colors ranging from yellow to apricot, to salmon, and vivid shades of orange and scarlet. This species has no fragrance and blooms in mid May to early June. Native range: the mid-eastern states: as far north as New York, as far south as Georgia, and as far west as Tennessee.
Piedmont Azalea
Rhododendron canescens (Michx.) Sweet
With flowers varying from deep pink to white with a pink corolla tube, the Piedmont azalea blooms in late April to early May. Native range: the Piedmont and coastal plains; New York to Florida, and Texas.
Choptank River Hybrid Azalea
Rhododendron Choptank River Hybrid
Selection of the Choptank River Group of natural hybrids of R. atlanticum and R. periclymenoides. Flower color is variable, typically pale pink to pale yellow.
Marydel Azalea
Rhododendron 'Marydel'
Blooming in mid May, the Marydel azalea is notable for the fragrant white flowers with deep rosy flushing inside the corolla as well as outside. A Polly Hill selection of the Choptank River Group of natural hybrids of R. atlanticum and R. periclymenoides, the Marydel was originally found in the wild in Delaware near the Choptank River and the town of Marydel.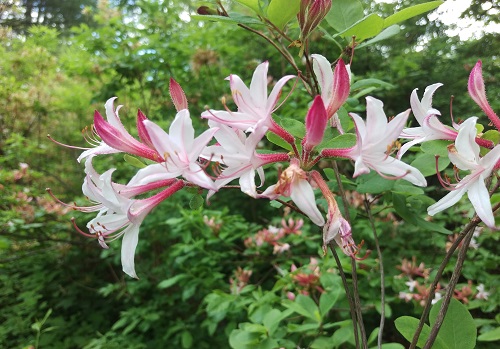 Red Hills Azalea
Rhododendron colemanii R. Miller
This is a newly (2008) recognized species from the upper Coastal Plain of Alabama and Western Georgia. This plant came to us circa 1977 from Coleman Nurseries with the name 'Coleman's May Pink'. The flowers can be white or flushed with pink, often with a yellow blotch on the upper corolla lobe. The Red Hills azalea flowers late May to early June with a fragrance described as sweet, musky and lemony.
Cumberland Azalea
Rhododendron cumberlandense E. L. Braun
Very similar to the flame azalea with yellow, orange to red flowers; the Cumberland azalea blooms in early to mid June. Native range: the Cumberland plateau region from eastern Kentucky and western Virginia to eastern Tennessee, northern Georgia and northern Alabama.
Oconee Azalea
Rhododendron flammeum (Michx.) Sarg.
Flower color ranges from yellow, pink, salmon to orange-red; the Oconee azalea blooms in mid to late May. Native range: Georgia to South Carolina.
Piedmont Rhododendron
Rhododendron minus Michx.
This evergreen shrub has white to pink flowers and blooms in mid May. Native range: Alabama, Georgia, North and South Carolina, Kentucky and Tennessee.
Western Azalea
Rhododendron occidentale (Torrey & A. Gray)
The flower buds are yellow-pink and open white with a yellow to orange blotch on the upper lobe. Prominently fragrant; blooming mid to late June. It is the only American azalea in our collection that is not native to the east. Native range: California and Oregon.
Pinxterbloom Azalea
Rhododendron periclymenoides (Michx.) Shinn.
Corolla white to deep pink with pink tube and little to no scent; flowering early to mid May. Native range: New England south to Alabama and Georgia, west to Illinois.
Pink Puff Azalea
Rhododendron 'Pink Puff'
A natural hybrid derived from R. cumberlandense and R. arborescens. Collected by Dr. David Leach in the Blue Ridge Mountains of North Carolina. Fragrant flowers are salmon pink with a yellow blotch on the upper lobe; blooming in mid to late June.
Roseshell Azalea
Rhododendron prinophyllum (Small) Millais
Fragrant rosy-pink flowers fill the air with a clove-like scent in mid to late May. Native range: Maine south to Georgia, from Illinois south to Texas.
Plumleaf Azalea
Rhododendron prunifolium (Small) Millais
Flowers are orange to orange-red or red, with an indistinct darker blotch on the upper lobe. Valued for late blooming, from mid to late July well into August. Native range in southwestern Georgia and eastern Alabama. This species is listed as threatened in the State of Georgia.


Pinkshell Azalea
Rhododendron vaseyi A. Gray
The flowers are pale to deep pink, sometimes white, with orange-brown or red spots on upper lobes. Pinkshell azalea blooms in early May before its leaves fully emerge. Native to Massachusetts and North Carolina.

Swamp Azalea
Rhododendron viscosum (L.) Torr.
Flowers are white, sometimes pink-tinged or pink, fragrant. This species blooms from late June to mid July. Native range: Maine to Florida and west to Texas.