Music in the Meadow
First 'Music in the Meadow' concert Saturday, June 29, 2013
By the Pond – Under the Stars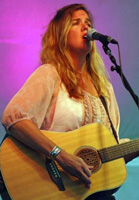 The Connecticut College Arboretum's first-ever 'Music in the Meadow' concert featured local roots rock/Americana favorites The Hoolios, Dogbite and singer/songwriter Nancy Parent.
The Hoolios' music showcases the Cajun-tinged roots-rock of singer/songwriter Jim Carpenter. Blending rolling electric guitars, mandolin, keyboards, bass and drums, Carpenter's compositions have garnered many national accolades throughout his career. Dogbite's danceable music could be described as folk-abilly: the band's diverse influences range from Django Reinhardt to Eddie Cochran to The Waterboys. Dogbite's lead singer/guitarist Hugh Birdsall grew up at Connecticut College (his father was a professor of history at the College) and played in the popular New London band The Reducers for many years. Singer/songwriter Nancy Parent's soprano has drawn comparisons to Joan Baez and Emmy Lou Harris. Her first release, Vision of Angels, was released last winter.
Cost: $10 per person
Tickets: in advance at the Arboretum administrative office, room 103, Olin Science Center, Connecticut College (first building north of the main entrance gate house) M-F, 1:00PM - 4:30PM or at the event.
Bring: blankets or beach chairs to sit on; picnic and insect repellent are encouraged
Parking: along Williams Street, or across from the Arboretum in the Bolles House parking lot, or on campus in the Horizon House (Admissions) lot or in south lot
Enter: at the Williams Street entrance to the Arboretum (Native Plant Collection). At the bottom of the Laurel Walk (grassy ramp) turn right and downhill into the outdoor theater.
Contact Information:
Phone:
860-439-5020
Email arbor@conncoll.edu
Connecticut College
Arboretum
Box 5201
270 Mohegan Avenue
New London, CT 06320