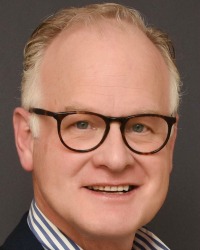 DeFred (Fritz) G. Folts III '82
Chair
Fritz Folts has served on the Connecticut College Board of Trustees since 2012 and was named Chair in 2018. He is a Managing Partner and the Chief Investment Strategist at 3EDGE Asset Management in Boston.
3EDGE Asset Management is an independent investment firm that provides investment management services to both private clients and institutional investors. The firm currently maintains over $650 million in assets under management. 3EDGE is well known for its use of proprietary investment research methods including the application of concepts from engineering, system dynamics,complexity economics and multi-player game theory in order to analyze the cause and effect relationships that drive the global capital markets.
He has spoken at numerous investment conferences on the topic of global macro investing and has been featured in Barron's. Fritz received his B.A. with a major in government from Connecticut College in 1982, and an M.B.A. from Instituto Estudios Superiores de la Empresa (IESE) a full-time bilingual Spanish-English M.B.A. program in Barcelona, Spain in 1991. He also serves on the U.S. Advisory Council for IESE Business School in Barcelona, Spain.
He lives in Concord, Massachusetts with his wife Cathy.