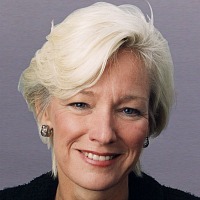 Pamela D. Zilly '75, Chair
Pamela Zilly was elected to the Board of Trustees in 2005 and was named Chair in 2012. She retired as a senior managing director in the Restructuring & Reorganization Advisory Group at The Blackstone Group L.P. in 2009.
At Blackstone, Zilly provided financial advisory services to companies in need of capital or operational restructurings, often in a bankruptcy proceeding, or to creditors of such companies. Prior to joining Blackstone in 1991, she worked for three years at Chemical Bank. Zilly began her career in investment banking at E.F. Hutton in 1977.
Zilly majored in economics and American history at Connecticut College, graduating Phi Beta Kappa, magna cum laude and with distinction in the major. She received a master of science degree in industrial administration from the Tepper School of Business at Carnegie Mellon University.
Currently, she is a Vice Chair of the Board of Trustees of the American Theatre Wing in New York City.