Fall Sports Winter Sports Spring Sports Accolades
Fall Sports
Field Hockey | Volleyball | Water Polo | Cross Country | Soccer | Sailing | Tennis
The Fall Sports Season brought plenty of excitement to Camel nation.
Field Hockey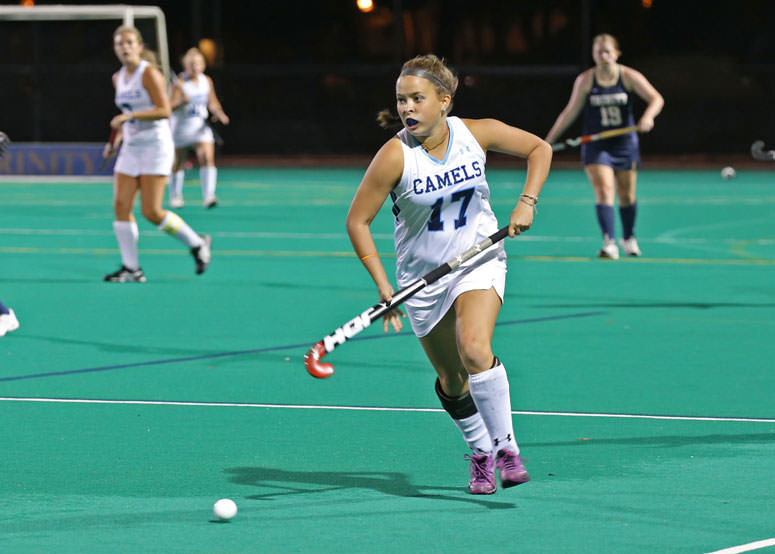 The program finished the season winning four of our last five games, including a conference win over Tufts University who was ranked #5 in the country at the time we played them. This is the most significant win our program since the arrival of Head Coach Chrissy Needham. The program was in the running for a playoff spot until the last week of the season.
Volleyball
The Women's volleyball team qualified for the NESCAC post-season for a school-record 12th straight time.
Water Polo
Playing in a Division II-III division for the first time, the Men's team advanced to the first-ever championship match in the newly-formed CWPA West Division. Senior Carlos Heros was named All-American for the second time.
Cross Country
The Women placed #8 in NESCAC with Ashley Curran '17 and Bella Franz '17 qualifying for the NCAA Cross Country Championship. For Curran, it was her third trip to the NCAAs. Curran and Franz earned All-NESCAC honors.
In Coach Jim Butler's 30th and final season, the Men finished #8 in NESCAC. Ben Bosworth '17 and Danny Aschale '20 were named All-NESCAC.
Soccer
The Men had a 10-win season, and 6th straight NESCAC playoff. Pat Devlin '17 was named NESCAC Player of the Year, Hero Sports D3 Player of the Year, and NSCAA Second Team All-American and Scholar All-American. Devlin and Chris Lockwood '19 made All-NESCAC.
The Women also had a 10-win season and their second NCAA berth in three years. Alex Baltazar '19 was named to Second Team All-NESCAC. The team advanced to Round of 32, defeating Scranton University on penalty kicks in First Round at McDaniel College.
Sailing
The coed sailing team won the Atlantic Coast Championship in the fall.
Tennis
6-10/1-6 in NESCAC. Beat Hamilton. Senior Daniel Maffa won at #2 singles to close out his NESCAC career.
8-8/1-6 in NESCAC. Beat Hamilton. Seniors Susanna Studwell and Adrienne Sieverding won singles matches to close their NESCAC careers.
To renew your membership in the Camel Athletics Club visit giving.conncoll.edu.