Fall Sports Winter Sports Spring Sports Accolades
Winter Sports
Basketball | Hockey | Squash | Swimming
Connecticut College sports teams enjoyed their share of success in the winter sports season.
Basketball
The Women earned their fourth straight NESCAC post-season berth, going 16-9 with a 4-6 NESCAC mark. Senior Liz Malman and junior Mairead Hynes were named to the All-NESCAC Second Team. Hynes passed the 1,000 point mark during the season.
The men had their second straight winning season at 13-10 with a 3-7 NESCAC record, including a win over the nation's #5 team Amherst. Senior Zuri Pavlin set the school's all-time rebounding record and was featured in Sports Illustrated's "Faces in the Crowd."
Hockey
The Women's team had the most wins in program history (15), 10th straight NESCAC post-season, highest playoff seed in program history (#2), advanced to third NESCAC semi-final in four years, hosted second straight NESCAC home playoff game, participated in Frozen Fenway vs. Bowdoin College. Julie Beattie named to All-NESCAC Second Team.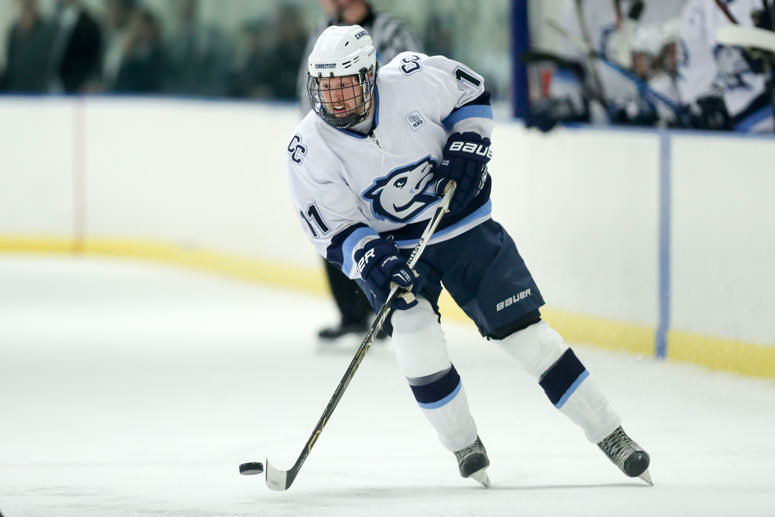 The Men went 2-13-3 in NESCAC, beat Middlebury twice. Lost to Tufts 2-1 in 6th Annual Green Dot Game. Lost 8 games by one goal. Very young team.
Squash
The Women went 8-17, winning matches vs. Vassar and Northeastern to finish #26 in the nation. Seniors Caroline Lippincott, Anne Holly, and Adrienne Sieverding won crucial matches to defeat Vassar.
The Men went 5-17, finishing #31 in the nation. Matt Lillie '17 qualified for CSA Individual Championships.
Swimming
The women finished #3 in NESCAC with team record 1,268 points, sent 10 swimmers to NCAAs in Houston, TX, seven of the 10 earned All-America status and all ten took home either All-America or Honorable Mention All-America honors. Team finished #10 in nation with a team record 101 points, including an NCAA champion in the 200 breast stroke, Mary Erb '20.
The men finished #4 in NESCAC and had 8 All-NESCAC performers. Five swimmers qualified for the NCAA meet and all five earned Honorable Mention All-America status (top 16 in their events). Senior Mike Fothergill ended his career with ten All-America swims.
To renew your membership in the Camel Athletics Club visit giving.conncoll.edu.