Psychology Colloquium Series
The psychology department holds a regular colloquium series featuring distinguished scholars and practitioners in the field. You may wish to join in the weekly or biweekly research groups that discuss a wide range of research topics, from developmental psychopathology to feminist psychology and personality and clinical research.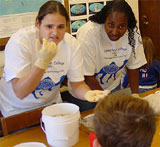 Annual Brain Fair
The behavioral neuroscience program holds a "Brain Fair" each year (pictured at left) with students introducing local school children to the wonders of the brain and brain research through hands-on activities.
Psi Chi National Honor Society
You'll have the opportunity to join Psi Chi, the National Honor Society of Psychology. Psi Chi also publishes student research in the Connecticut College Psychology Journal.
Many of our majors are accepted into top psychology graduate programs. Others establish careers in business, education, law, human service, non-profits, medicine and other health-related fields. Whatever your future path, the psychology major helps to develop some of the most important competencies of a liberal arts education - such as openness to new ideas, the ability to view issues from multiple perspectives, the ability to organize and evaluate data, effective problem solving and strong communication skills.