Slavic Studies faculty and students are actively engaged in scholarly research, and regularly present their work in on-campus forums and at national conferences.
All Slavic studies majors are required to conduct original research and to produce a senior integrated project (SIP) or an honors theses in the senior year. Graduating seniors present their work before graduation in May in an annual event including department faculty, graduating seniors and continuing students.
In recent years topics of senior presentations have included:
the Russian Internet bride industry and human trafficking (Liz Jannery '17)
Russian and Polish crime films of the late 1990s (Josalyn Saez '17)
statelessness and citizenship in dissolved states (Dana Sorkin '16)
Russian banya culture (Stephanie Reeves '16)
the history of Russian Victory Day (Lizz O'Campo '16)
Russian ethnographic museums (Kamal Kariem '16)
Slovenian national identity and natural landmarks (Glindys Luciano '16)
public opinion of President Vladimir Putin (Kaitlin Cunningham '16)
Slavic studies majors routinely produce exceptionally good work during their senior year. In 2014, Slavic studies major Jyoti Arvey received the prestigious 2014 Oakes and Louise Ames Prize for the best honors thesis for her study, "Gender in the Everyday Life of the Russian Home." Based on ethnographic interviews with 20 residents of Ufa, Russia, Arvey's thesis illuminates the social structures within the post-socialist Russian home and broader social relations in modern-day Russia. Her thesis was advised by Petko Ivanov, senior lecturer in Slavic studies. Arvey then went on to win a Fulbright award to return to Russia in 2014-2015.
Susana Hancock's 2007 honors thesis, "Gravestone Carvings: A Venerate Medium of the Intellectual and Spiritual Life of Seventeenth-Century New England," likewise was nominated for the Ames Prize.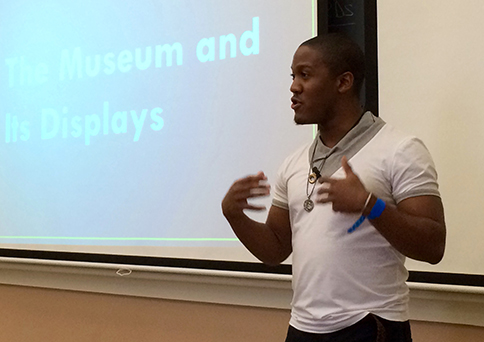 Katherine DoCampo '06 published her senior independent project, "From Vixen to Victim: The Sensationalization and Normalization of Prostitution in Post-Soviet Russia," in the SRAS online journal shortly after graduating from Connecticut College.
Kamal Kariem '16 submitted his honors thesis as a writing sample when applying to the graduate program in anthropology at Princeton University, where he is currently working on his Ph.D.