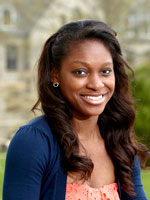 What she's doing now
Earned a Master's of Science degree in management concentrating in eldercare administration at Lasell College.
Works as a clinical research assistant/psychometrician at Boston University Alzheimer's Disease Research Center. Her work involves administering neuropsychological tests on participants for various studies regarding Alzheimer's Disease, Repetitive Brain Trauma (RBT), and other memory disorders. She is also studying for the MCAT, taking night classes at BU to keep her knowledge in the hard sciences fresh, and working periodically as a real estate agent in Boston.
Future Goal
Aspires to become a cardiothoracic surgeon. Read more about her, "The Student Leader: Diane Essis," a CC: Online Magazine exclusive.
High School: Williston, Northampton, Mass.
Connecticut College, Biology with a concentration in cellular and molecular biology, 2012
Internships
Summer 2011 - Research on LQT syndrome with cardiologist Dr. David Milan at Massachusetts General Hospital, Boston, Mass.
August 2010-May 2011 - Think S.A.F.E. Project, Connecticut College
Research
Summer 2010 - Professor Zimmer's computational chemistry lab
Summer 2009 - Cared for one of her mother's patients in an assisted living facility who was suffering from Alzheimer's disease. Through daily assistance of the patient, she was able to gain a more personal insight to the world of elderly care and assisted living facilities
Conferences Attended
World Future 2010, Sustainable Futures, Strategies, and Technologies, Boston, July 8-10, 2010
Mercury Conference on Computational Chemistry, Hamilton College, August 1-3, 2010
Posters Presented
"Water diffusion in and out of the GFP b-Barrel : TurboGFP And KillerRed." Binsen Li, Maritza Essis, Marc Zimmer, Mercury Conference On Computational Chemistry, Hamilton College, August 1-3, 2010
"Water diffusion in and out of the GFP b-Barrel : TurboGFP And KillerRed." Binsen Li, Maritza Essis, Marc Zimmer, Sigma Xi, Northeastern Research Symposium, April 9, 2011
Other Accomplishments
Student Government Association (SGA) President, 2011-2012
Received the 2011 Gender and Women's Studies Department Award for Feminist Collective Action
Graduate, Green Dot Program, Think S.A.F.E. Project