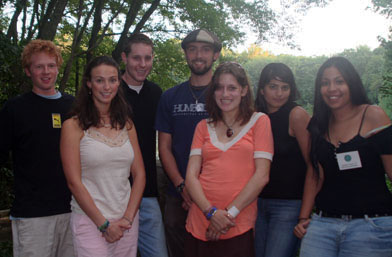 (Left to Right): Jesse Taylor-Waldman, Rebecca Mason, David Hecht, Noah Fralich, Christine Monahan, Saraswati Jayanthi, Jennifer Vasquez
Read and download Senior Integrative Project (SIP) abstracts or Reflection Papers for the Class of 2007.
Noah Fralich
Majors: Environmental Studies, German Studies
Internship: Wuppertal Institute, Berlin, Germany
Senior Integrative Project: Renewable Energy Sources Act and its Effect on the German Wind Energy Industry: Lessons for the U.S.
David Hecht
Major: Government, Minor: Economics
Internship: Atrium Environmental Health and Safety Services, Virginia
Senior Integrative Project: Returning to Nuclear Power: A Historical Look at the U.S. Experience and Analysis of the Current Obstacles to New Plant Development
Sara Jayanthi
Major: Environmental Studies
Internship: Connecticut College Freshwater Ecology Lab
Senior Integrative Project: A Paleolimnological Examination of the Acidity Trends in Two Kettle Ponds along the Eastern Seaboard
Rebecca Mason
Majors: Environmental Studies, Biology
Internship: Garden Harvest, Maryland
Senior Integrative Project: Local Food as an Educational Tool: A Deeper Look into Student Run Gardens
Christine Monahan
Major: International Relations, Minor: Economics
Internship: Azafady (Pioneer Madagascar Programme), Madagascar
Senior Integrative Project: Mining, AIDS, and Development: Could "Sustainable Mining" Bring More Harm than Good to Madagascar?
Jesse Taylor-Waldman
Major: Environmental Studies
Internship: The Nature Conservancy, Vermont
Senior Integrative Project: The Role of Land Trusts and Conservation Easements in Environmental Protection in Vermont: A Case Study of the Vermont Nature Conservancy and the Vermont Land Trust
Jennifer Vasquez
Major: Environmental Studies
Internship: Montefiore Childhood Lead Poisoning Prevention Program, North Bronx, NY
Senior Integrative Project: Use of Magnesium to Prevent Lead Poisoning in Zebra Fish: A Model for Prevention in Humans