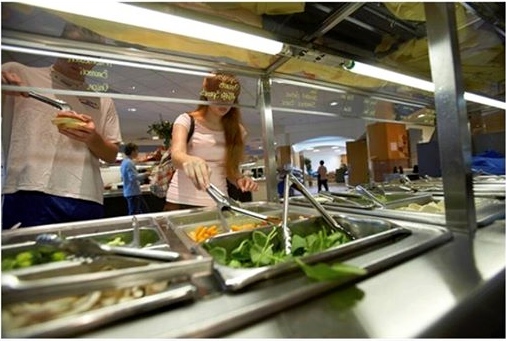 As the sustainable food systems fellow, I work with dining services to bring more sustainable food to campus. I am currently involved with a number of projects.
Kris Serwinski, the Purchasing Manager for Dining Services, and I are working to educate students on where our food on campus comes from and goes. Right now there is little information about this available to students and we are looking to change that. We plan to make posters with different facts to hang in the dining halls. We want to tell students that all of our post consumer food waste goes to the pigs at the Secchiaroli Farm and that all our bananas are fair trade. Knowledge of where our food comes from is socially just as it breaks down the barrier between consumers and producers, economically viable as it helps us to understand why certain food (locally grown, organic, ect.) costs more, and environmentally friendly as it makes us aware of how far our food it traveling to reach us. We really hope that students will be more excited to learn about their food.
I am also currently writing a proposal to SGA to get money from the Sustainable Projects Fund to finance the purchase of a few pieces of new equipment for the Dining Services staff. This equipment would allow Dining Services to buy more locally grown and less processed food, and be able to process it on site. This would allow them to support the local economy, reduce the distance that our food travels, and serve healthier food to students.
Finally, I am finalizing a project that was started almost a year ago to bring "Waste Monitors" to certain on campus events. We are mainly looking at Prospective Students Day in the fall and Accepted Students Days in the spring. These are events at which we serve food with disposable dishware. Currently at these events there are trash bins and recycling bins but no way to collect food waste separately. We hope to implement a program that adds a food waste bin to each station and plan to also hire two "Waste Monitors" to stand at the station and politely instruct people on how to separate this waste. This project is economically beneficial as it will greatly reduce the weight of our trash and cost no more for food waste disposal, and environmentally and socially just as it reduces waste. It will also show our perspective students that Conn is committed to holistic sustainability.