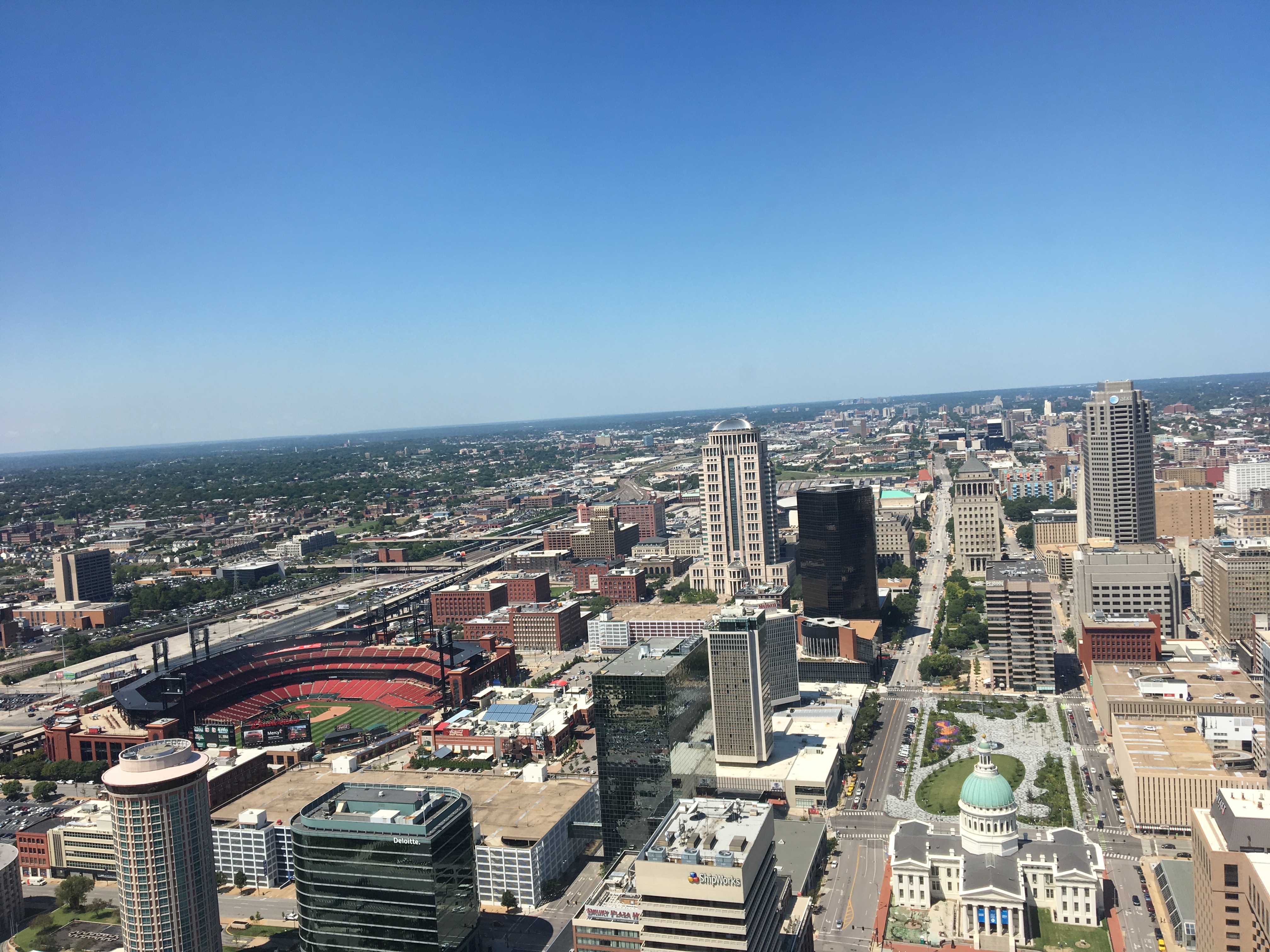 Bloggers Mark McPhillips, '20 and Daniella Maney, '20 embarked on a road trip this summer with their friend Samuel Piller, '20 before coming back to Conn. We will publish a series of posts about what they experienced along the way.... (Read Post 1)
It was a bright and early start for us today. I was up at 9 a.m. to make sure we (sort of) stuck to our schedule.

We were supposed to visit the famous St. Louis Gateway Arch yesterday but we decided to postpone that adventure for a day in order to dedicate more time to exploring Chicago. This was not a decision we regretted as we found ourselves reminiscing about our time in Wicker Park.

We left our hotel room by 10:30 a.m. and were all set and ready to venture to the top of the arch. The ride to the top was advertised as an "elevator ride" but it was not exactly as suggested.

We made it inside the underground Visitors Center at the arch and were escorted to what can only be described as rather small shuttle pods with five seats. Dani, Samuel and I were in pod No. 5 with two little kids. It was only a four-minute ride to the top but it was a tight squeeze.

The top of the arch was a bit underwhelming: a short, overcrowded hallway with small and scarce rectangular windows. Nevertheless, the three of us agreed it was a worthwhile experience and we are glad we got to see St. Louis from 630 feet up.

We took our shuttle pod back down to earth, gravity made the trip shorter—we arrived in three minutes instead of the initial four. It was time to say goodbye to St. Louis and hello to the rest of the state of Missouri—our next destination is Kansas City, which will be a straight shot across the entire state.

About 20 minutes into our new trip, we made our first stop at Jack In the Box, a fast-food chain famous throughout the Midwest that originated in California. Dani had never even heard of it. Samuel knew it for its tacos, and I had seen it at rest stops the few times I have been out West. We stopped quickly inside and brought our meals to go.

Now that we are back on the road again, we have started seeing the signature Midwest roadside attractions: miles and miles and miles of corn. It's fascinating, really; just insanely long stretches of corn with nothing else around. Sometimes, it's soy...only sometimes.
After we finished crossing the length of Missouri, we arrived at a city that lies on and around the state's western border: Kansas City. We had no preconceived notions of Kansas City, really, and we drove to a place that we found through a maps search of "hipster cafe". We stumbled upon a tavern called Thou Mayest Coffee Roasters and had a conversation about Conn with the barista. He was excited to have us all the way from Connecticut, he said.
The final stretch of the day was in our next new state: Kansas. This was a big state for us because it was one of the driving forces behind this entire road trip. For some reason inexplicable to myself I have always wanted to go to Kansas and see what it is like. So naturally, I was ecstatic when we departed Kansas City and landed in Topeka, Kansas. In this widespread town, our destination was a nature center called Lake Shawnee. When we arrived, we noticed there were bike rentals and jumped at the opportunity to get some needed leg exercise in.
It was a much shorter ride than we had anticipated and paid for. We rented the bikes for $2.50 an hour but really only should have paid $1.75 because we rode them for barely half an hour. The three of us proclaimed that we were out of shape and that an hour-long bike ride was simply unrealistic. We put our bikes back and embarked on our journey to our final destination of the night: Wichita.
The ride to Wichita was a bit of a bumpy, dark and mysterious one. Our navigational system, the app Waze, took us down many back roads in Kansas; ones that lacked billboards, people or generally civilization of any kind. It was about 10 p.m. and we still had to fill up on gas once more to make it to Wichita. The first gas station we saw for miles in the pitch-black dark night was scarcely lit but bright enough to catch our eye. We pulled in and were happy to see the gas prices were only getting lower in Kansas.
We left this gas station and drove about two more hours until we got to the La Quinta Inn in Wichita. After a long day of driving through Kansas, we checked into our hotel and made our way to the room. We made some mac and cheese for dinner and soon called it a night.