Bloggers Mark McPhillips, '20 and Daniella Maney, '20 embarked on a road trip this summer with their friend Samuel Piller, '20 before coming back to Conn. We will publish a series of posts about what they experienced along the way.... (Read Post 1)
Usually, I am the first of us awake on a given morning of this road trip. This morning, however, was a bit different.
?At 9 a.m., I awoke to the sounds of Dani and Samuel changing into their respective athletic gear so that they could utilize the La Quinta Inn's exercise room. I fell back asleep before they even left.
An hour later they came back into the room. Now it was time for me to get up, get ready and get going. We all showered and packed while Dani searched for a breakfast spot for us to hit in Wichita.
The restaurant Dani found was called Doo-Dah's Diner located in downtown Wichita. When we arrived at the diner the hostess told us that there were only counter seats available. The three of us agreed that was fine, especially Dani who noted that "we spend every moment of this trip together anyway."
The diner was definitely a highlight of our time in Kansas. Samuel ordered that day's special, the Sloppy Mac Stack: sloppy joe with mac & cheese and homemade, deep-fried hash browns on a hamburger bun—with a side of fries. I got Tammy's Benedict, two poached eggs atop avocado and a toasted English muffin with hollandaise sauce spread over the whole dish. Dani ordered corned beef hash with a special blend of onions and peppers. Between the three of us, I was the only one to finish my whole meal. Even that was a struggle, though, as just looking at the delicious spread made me instantly full.
After our amazing time at Doo-Dah's, we made our way to our final Kansas destination. We drove for about 15 minutes and arrived at the Great Plains Nature Center, also located in Wichita. The three of us brought my camera along and snapped some fun photos, took in the crisp Kansas air, and embarked on a short walk around this thriving nature center.
Our stroll in the Great Plains Nature Center was our final big activity in Kansas. After that, we headed toward Oklahoma. Before we entered a new state, however, we stopped at a cornfield on the side of the road to take pictures. Yes, we veered from our journey to simply take nice (and candid) pictures in front of a nice, big field of corn. We don't have any regrets.
After our corn-inspired photo shoot and about three more hours of driving, we found ourselves at yet another site full of lush, green plants: the Myriad Botanical Gardens in Oklahoma City, Oklahoma. We did not spend as much time here as we did at the Great Plains Center but we still got to see a large amount of intricately-patterned koi fish swim and jump around small ponds. It was a much different space than the nature center in Kansas but it was still breathtaking and a nice break from the bustling city atmospheres we have seen so far.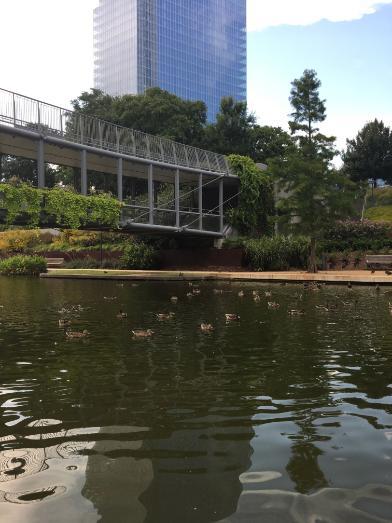 The next stop on our journey was at a Travel Center in OKC to pick up some groceries (mac and cheese, toothpaste, trash bags, hand sanitizer, etc.). After we got our groceries we went to the OKC Howard Johnson's, our lodging for the night. We checked in and decided to hit the hay a little early given our nature-based excursions and good amount of driving we had done that day.