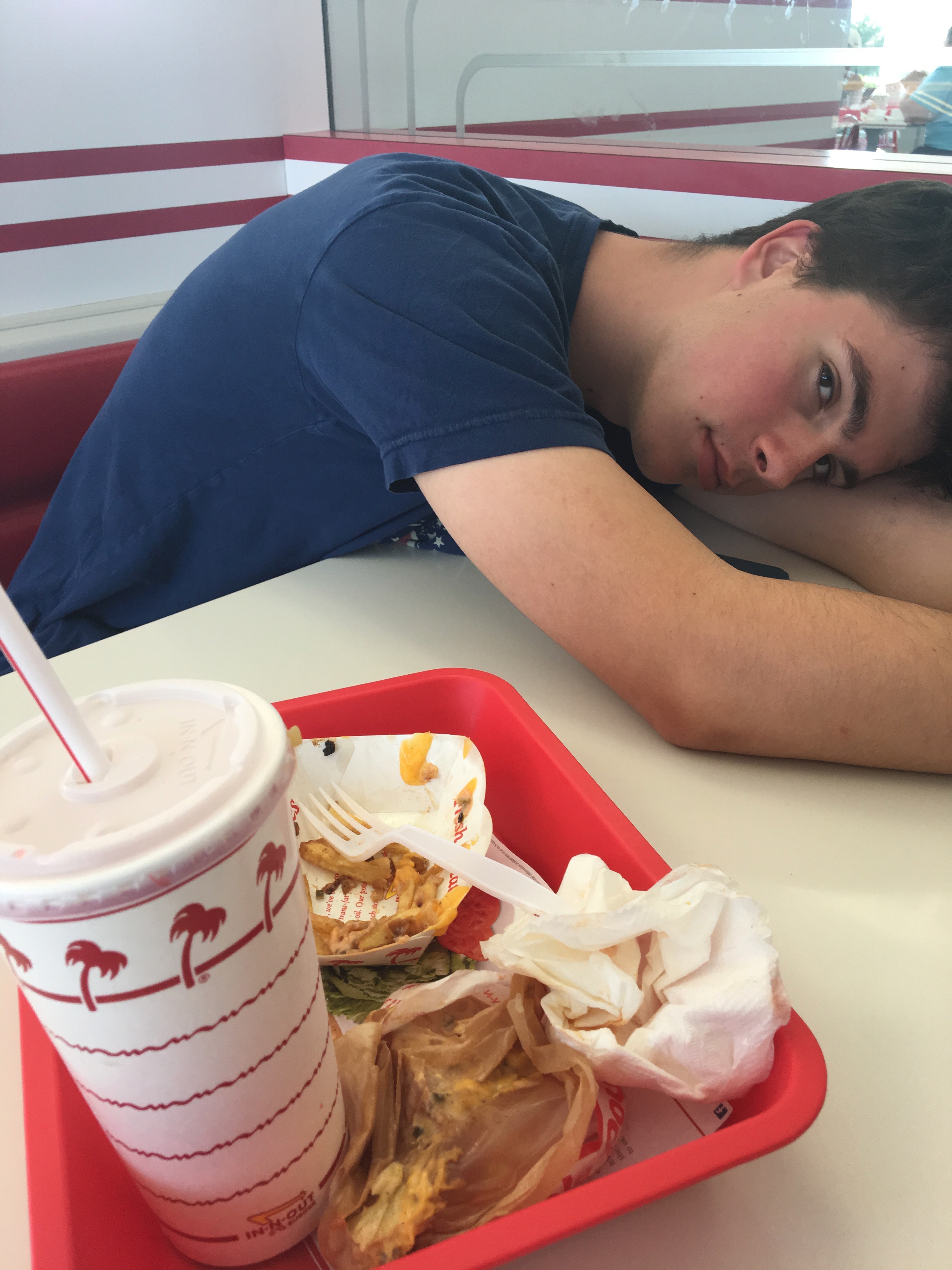 Bloggers Mark McPhillips, '20 and Daniella Maney, '20 embarked on a road trip this summer with their friend Samuel Piller, '20 before coming back to Conn. We will publish a series of posts about what they experienced along the way.... (Read Post 1)
This morning was a bit of a disappointment…
When we first planned the road trip I said that I would make an itinerary for our trip and that we would stick to it as best we could. Unbeknownst to me, the schedule for today had us leaving Oklahoma City, Oklahoma, at 8 a.m. (not getting up at 8 a.m., leaving at 8 a.m.).
I should have had less faith in us. By the time the first of us got up (me) it was already 10:30 a.m. I walked over to the blinds and drew them completely, which flooded the room in harsh sunlight. Dani and Samuel were not too eager to get up but I told them that we were already running behind and that we had to get to New Orleans (NOLA), Louisiana, by tonight so we had better get a move on. After all, we had to first drive to Dallas (3 1/2 hours away) and then go to NOLA from there (another 7 1/2 hours). By the time we had showered, packed up, and cleaned the room it was already noon. We were not making good time.
The three of us packed into the CR-V with Samuel starting behind the wheel today, and we were once again on our way. After about an hour of driving, I noticed there was a Sonic off one of the exits and campaigned for a stop. We had each eaten a KIND Bar for breakfast but they were simply not enough for us. We pulled off the highway in some random Oklahoma town and feasted on boneless chicken wings in the drive-in section of the Sonic.
Our stomachs full and our appetites satiated, we got back on Interstate 35 South. After about two more hours of driving, we finally crossed into Texas. Our destination here was Dallas and we really only had time to stop at a store called "Texas Treasures" where Dani and I once again collected our souvenirs.
On our way into Dallas, Samuel remarked that we could maybe get In-N-Out Burger while we were there (refer to my previous blog post about my spring break in California to understand my love for this establishment). I replied that no, we couldn't because the furthest east that establishment goes is Utah.
I was pleasantly surprised. It turns out that In-N-Out has long been present in 13 locations spread throughout Dallas—and there wound up being one seven minutes away from Texas Treasures. The three of us pulled up to this wonderful fast-food chain and I told Samuel that he had better order his burger and fries "Animal Style" for the full experience.
Because of our stop at Sonic earlier Dani did not order any food. But that didn't stop Samuel and I as we can pretty much always eat. Our meal was most definitely a success and a good accomplishment before we embarked on our 7 1/2-hour journey down to New Orleans.
I took over driving after our In-N-Out stop so I have been at the wheel for about four hours. We stopped once to get snacks and then once more to get gas and switch drivers. Dani took over for the final stretch and once she was done we would be in New Orleans!
We arrived at our lodging for the night, the Comfort Suites located in Harvey, Louisiana, around 3:30 a.m. The three of us were exhausted and ready to crash as soon as we got up to our room. It was not that easy, though. When we got to our room the door was already open! We were obviously creeped out so we proceeded with caution. Luckily, no one was in the room. On the contrary, one of the beds was completely stripped down and the linens were thrown on the floor.
The three of us were too tired to complain so Dani and Samuel just went down to the front desk to retrieve fresh sheets and a comforter. They came right back up and set the bed up. Now, it was really time to sleep—so that's exactly what we did.